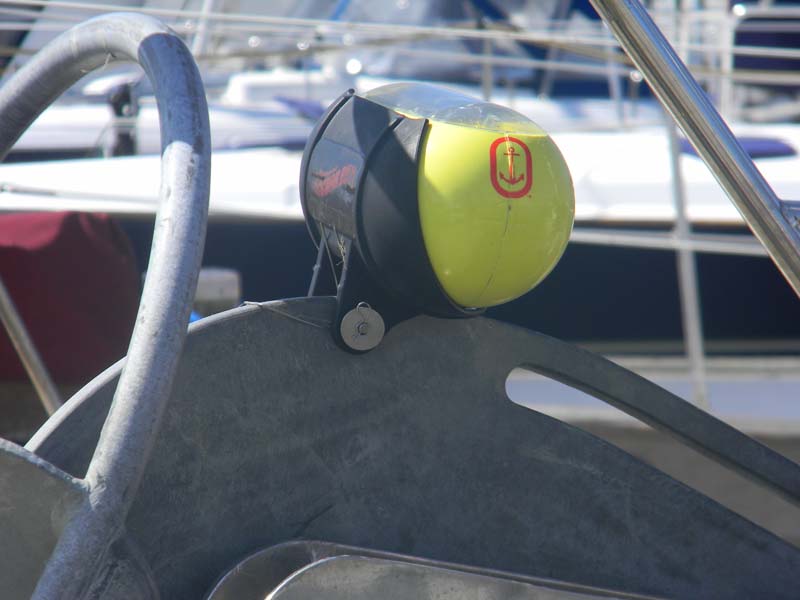 As I mentioned, I went to the boat show last week. OK, I didn't just go to the boat show, I basically lived there for the entire week. I went to the show opening night and attended the Uncorked event. I bought a 5-day pass and took more pictures than you could shake a stick at. I also talked to as many of the 440+ vendors who were represented at the show. I was so impressed with so many of the innovations, I wanted to make sure I blog about a few.
Just to be clear, I want to say that I'm not being paid for this post. I simply want to talk about a few products.
Today's topic is The Anchor Buoy. I was excited because, not only was this my first time seeing this product, it was the company's first time showing it! The basic concept is this: you take your boat to a beautiful location filled with other boaters and you drop anchor next to them; you have dinner, drinks and perhaps a little dip with your friends. Now you have a problem. Neither you nor other boaters necessarily know where your anchor is. As you may or may not know, setting an anchor properly requires you to leave some swing. Your boat isn't directly set over the anchor. Other boaters may run too close or set their anchors too close to you (not leaving enough swing between you both to avoid running into each other). Additionally, when you're ready to retrieve your anchor, it's best to position yourself directly over the anchor.
One recommendation is to tie a manual buoy to your anchor but it's not exact science, and deploying them is an entirely manual process. "The Anchor Buoy" is a patent-pending invention that rests snugly against your anchor, and self deploys with the perfect length of line to stay directly over your anchor. When/if your line becomes slack, the buoy rolls and activates a reel to pull some line in and straighten out. The Buoy also has a light so that it's completely visible at night as well.
Here's a video from their site showing the operation:

I love these little innovations. I felt the price was a bit steep, but the more I thought about it, the more I realized how cheap of an insurance policy this is: saving other boats from crashing into your anchor rode or making sure your anchor doesn't put any scratches in your gel coat or dings in your hull.
I encourage you to check it out at http://www.anchorbuoy.com