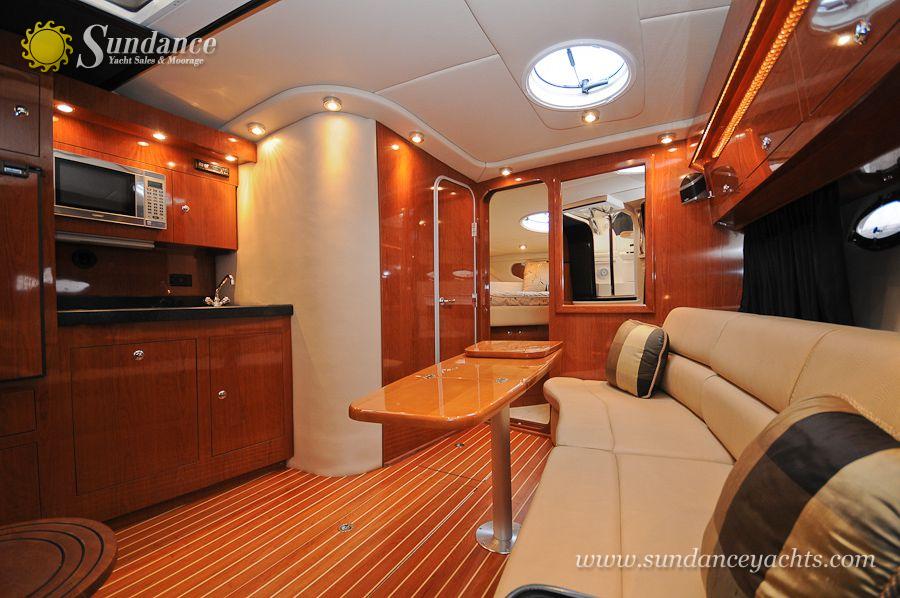 I am happy to say that I am in the market for a boat. I have been working very closely with Grant Haugen from Lake Union Sea Ray for going on two years. He has been a fantastic help and I think he has to be the hardest working, most patient man on the lake. Despite any possibility that I could buy my boat off of anyone, he's been willing to bust his hump to educate me on every aspect of buying a boat.
I also had the opportunity to go out on the water with Russ Reed from Sundance Yacht Sales in a gently-used 2008 Regal 3760 Sportyacht. I have to admit that I hadn't been looking at a Regal at all. I've mostly been looking at Sea Ray, Meridian and Formula boats. Admittedly, most of them are a stretch on the budget once I add some convenience features such as Axius. However, new boaters like me find those features psychologically essential because we just can't fathom, for instance, docking a boat this large without a joystick. So when I saw that this 37′ boat was sale priced to move at $159,999, my curiosity got the better of me. It didn't have Axius, but Russ, like so many other boaters who do without Axius on a daily basis, assured me I would get the hang of docking this large boat immediately.
The Boat: Features

I was impressed with the amount of space on this boat. With a 12'2″ beam, that leaves plenty of space below deck to move around. I was even more pleased to find that the forward stateroom had a door to make it more private — this is something I'm used to seeing one notch up in a 39′ boat. The Regal handled this layout quite well and I didn't feel cramped or claustrophobic at all.
There was enough room for a big guy like myself to move around, and actually even more space for others to get around me. That is an amazing accomplishment considering there is also a table in front of the settee. Oh, and by the way, that saloon settee has a built-in recliner so you can kick back and relax while watching television or chatting with your guests!
In the galley, the refrigerator is at eye level. This makes it so much easier to find what you are looking for. There is plenty of storage in drawers below. To top off the cooking amenities this boat features a two-burner stove, microwave, coffee maker, and a tip out trash can.
The head also features a surprising divider between the shower and vanity. This is much better as you avoid all of the problems many boats have with wet heads.
Up top there is plenty of transom storage. I also noticed that there is storage for more lines or fenders next to the windlass (OK, I didn't notice it. Rush pointed it out). In the back, the shore power cable featured a Glendinning Cablemaster. This is a small but amazing little feature that prevents you from having to manage just one more mass of cable once you dock your boat or are ready to get under way. Another bonus in the engine compartment was the Kohler/7.3KW/50 hours generator.
The Sea Trial
Now at the risk of sounding like I'm trying to beat Russ at selling this boat by listing all of the features, I'll move on to the Sea Trial.
I'm still new to this boating thing, so I actually found it useful to cruise through Lake Union at 6 knots before getting out into Lake Washington. I had time to get used to the feel of this large, yet surprisingly maneuverable boat. We meandered toward the lake, soaking up the rare sunshine in Seattle. Once we cleared the wake zone, Russ told me to go ahead and open it up. The boat took off with great ease. As I was closing in on shore, I took a timid curve to the left. I like lefts — I can see past the port side toward the direction I'm heading, and I can also peak out the starboard side to make sure a jet skier hasn't decided to tag along in a dangerous fashion. Once I made my turn, I had a lot more room to let the throttle out. I pushed it forward noting the initial bow rise. A slight adjustment to the trim tabs at Russ' direction and we leveled out at about 37 knots. That's great for a boat this size and it felt great. Starting to note a bit it traffic, and still being a bit timid, I drop the engines down to about 3500 RPM. The boat seemed to really like running at this level. I decided it was time to make some rights. I like to turn toward the starboard more quickly and this boat had no problem taking it all in stride. Russ commented "That's your sharpest turn yet." As I got a feel for the boat, he could tell I was really enjoying the ride. One other benefit I had once under way, was that I was added by a Raymarine E80 Radar-GPS-Plotter and an ST 60 plus depth sounder. I was able to use the radar to give me a little more verification of boats in the water around me.
As we wound to a close after nearly an hour and a half on the water, I came toward the wake zone a bit quick. I was able to slow it down fast, yet not so fast as to find my own draft washing up on deck. She sat down pretty well and I hit 6 knots at just about the right time. I almost didn't want to let this boat go and honestly, had I not already had a possibility of signing on a dream boat (to perhaps be named later), I might have just signed and walked away right then.
If you're in the market for a used boat and want to beat me to a great deal, I'd suggest you go talk to Russ! Tell him Tobin sent you!
Conclusions
I've still got my hopes on my dream boat. I have a few other options in the works with Grant as well. I'm really going to have to make a decision soon because with this Regal is really priced to move, it does make a tempting offer and anyone could snag it up before I do. Then again, I haven't "really" taken the 330 Sea Ray out for a sea trial either. I took a 310SDA out two years ago when I started looking at boats with Grant, but it's a bit harder to take a brand new boat out for a sea trial as you don't want to put too many hours on it. Back to the Regal, whoever ends up with this boat (and it could very well be me), is going to be one happy water-camper!