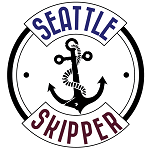 Welcome to 2014, skippers.
It's been a while since I write a post here, but much has happened since I started my business. I knew that in order to be successful, I needed my biggest business expense — a boat. It's sort of hard to build a business on the water when your legs are firmly planted on the dock.
I started my search for a boat with several local new boat dealers. However, my attention was drawn toward Formula Boats. I knew the style of boat I would need for my business to succeed, but I also knew that I would need qualit. While I have much respect for several of our local dealers selling some of the most well-known brands on the water, Formula Boats is known worldwide as a "Fit and Finish" company who stands behind their boats better than any others in their class. I'm happy to say that I was able to order a Formula Boats 31PC, get the boat financed, insured and moored in October of 2012. It was a very exciting time and I'm still extremely happy I was able to get it done.
So why the silence since then? Well, I quickly learned that I didn't know what I didn't know. I knew almost no other boaters. I didn't know where to take my boat on a beautiful day. I had no idea how long it would take me to get from various points on the lake to the locks. I didn't know how to lock through. I didn't know how to take care of my boat after having it in saltwater. I didn't know what kind of safety equipment I should have — nor did I even have any idea how dangerous the waters can be which makes you rethink your safety preparedness. My point is, there were so many unknowns for me, I thought it would be disingenuous for me to start right away, as I had hoped, blogging about all of my experiences and building my business. I wanted to make sure that I had was both receiving sound information and in turn relaying it here.
With a solid year+ of boating in the waters of Seattle under my belt, an amazing amount of stories that would boggle the mind, and friends made from all over the sound, I'm happy to report that I can start Phase II of the business. I'll start by blogging about how I came to that decision on a Formula Boat.