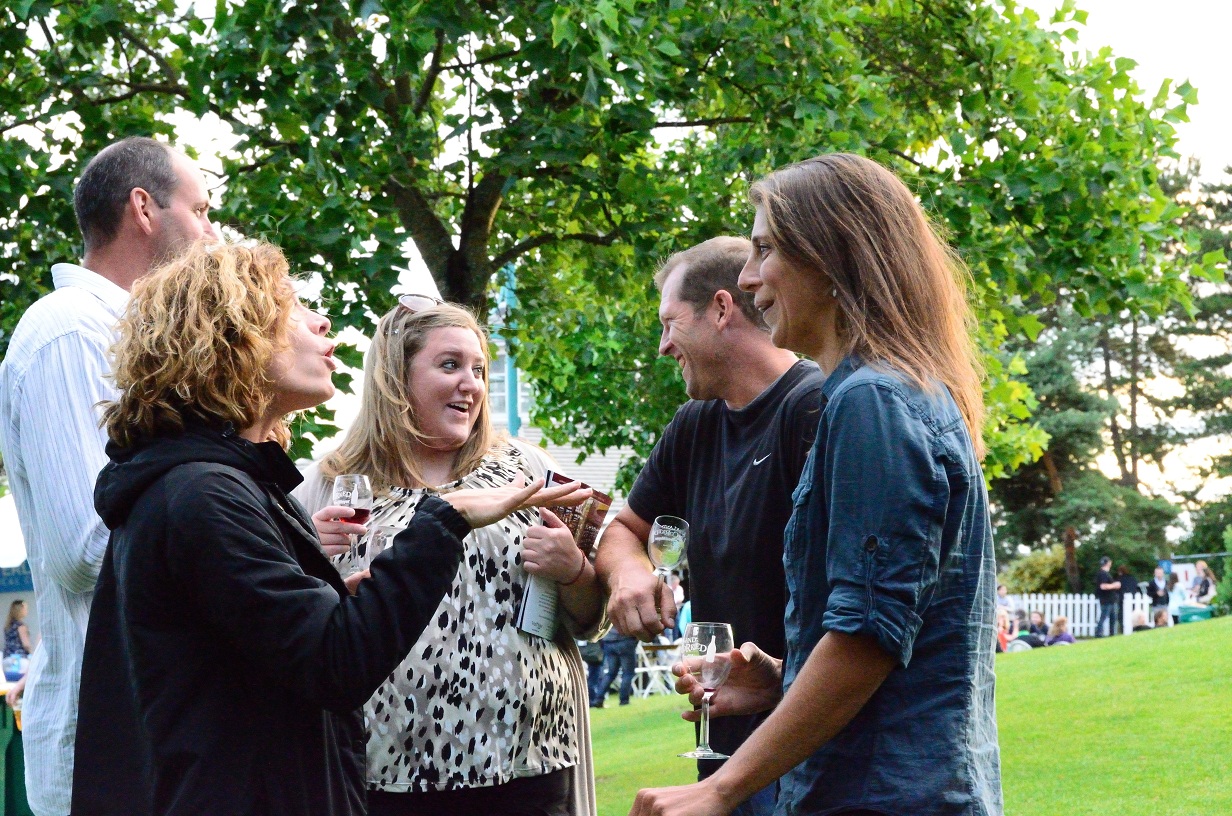 I've spent the last two days in Kirkland enjoying the festivities at Kirkland Uncorked. If you haven't had the chance to visit, I highly encourage you to take the opportunity today to get down there for the last day. Boats, music, hors d'oeuvres and, oh yes, wine! There is something for everyone here — well, except the kids. Leave them at home for this one.
Before entering the main event, you'll find vendors selling food and offering information on their products and services. Crepes, sausage, and more are all offered at reasonable prices along Kirkland Avenue and Lake Street intersection (just outside of Olive You). Get a free massage and spine check, open an Alaska USA account, or taste some of the amazing flavored olive oils and vinegars. You'll find plenty to do before heading down to the docks.
At the docks, you'll find several vendors have some boats for sale. You'll find a few amazing deals here. Typical of any boat show, many vendors are trying to put their best foot forward with some of their best deals. If you're in the market for a boat, I highly recommend going down and talking to these guys. One of my favorite sales guys, Grant Haugen from Lake Union Sea Ray, is running in circles servicing customers. I'm happy to say that I'm working with him on a boat deal myself.
A small $30 entrance fee and an ID check gets you access to the main event and gives you 10 tokens for wine samples. Most wines cost one token with a few costing two. You can also stop by the Stolichnaya (Stoli) Vodka booth and get a mixed drink for three tokens. If you're running low on tokens, don't forget to stop by the Overlake health booth and answer a few quick questions for two free tokens.
Once inside, you'll feel like everyone is there, yet there is plenty of room to roam around and see the booths and get your product samples. The folks at Think Thin are giving out free tastes of their products. Soda Stream is giving demos and handing out samples of the drinks their products can make too — did we mention that it's more environmentally friendly than bottled and canned drinks? There are also plenty of delicious free hors d'oerves from places such as Sear, Anthony's, Hectors and more.
There is plenty of music as well. For the past two days, I've seen several bands playing. Regardless of who is up, however, everyone seems to enjoy it. Everyone else has their opinions, of course, but my guess is that you'll spend more time talking in the company of friends than listening to the bands.
Let's not forget the main reason that everyone comes to Kirkland Uncorked — for the wine tasting. And oh, there are PLENTY of wines to taste. It is as though the entirety of Woodinville has packed up and resituated themselves into Marina Park for the weekend. Having been there for the past two days, I must warn you. If it's hot today, I highly recommend that you drink plenty of water in between wine. These may be small samples, but they do add up quickly. My favorite wine was a 2009 Cabernet Sauvignon from Sozo. This wine was a perfect dinner wine that I am looking forward to buying. It had a heavy cherry start with a blueberry finish. The merlot mid-palate added for a perfect blend to this wine. An added bonus is that buying a bottle of Sozo contributes 5 meals to the homeless. It is always fantastic to see companies finding ways to give back!
Get there today while there is still time! Oh, and don't forget to buy a bottle of your favorite at the wine shop on your way out!